Taylor Swift's Twitter account was hacked on January 27th by two individuals and one claimed that they were going to leak "nude" photos of the singer. One hacker whose Twitter handle was "@veriuser" posted a tweet to Taylor's followers, saying, "Shoutout @veriuser follow him guys' Fav when done for a follow… Love you all!!!"
This same hacker then sent out another tweet that said, "go follow my boy @lizzard :)" The hacker named "lizzard" wrote to Taylor's fans that he and the singer are currently dating. He later tweeted, "Will post taylor swift's nudes when this btc wallet hits 3btc" and included a link to a Bitcoin account.
The tweets were deleted from Taylor's page shortly after. She then addressed the hack, "I'd like to acknowledge the MVP of the day, @yelyahwilliams, for being the first to text me about the hack this morning. #FriendshipGoals. PS any hackers saying they have 'nudes'? Psssh you'd love that wouldn't you! Have fun Photoshopping cause you got NOTHING."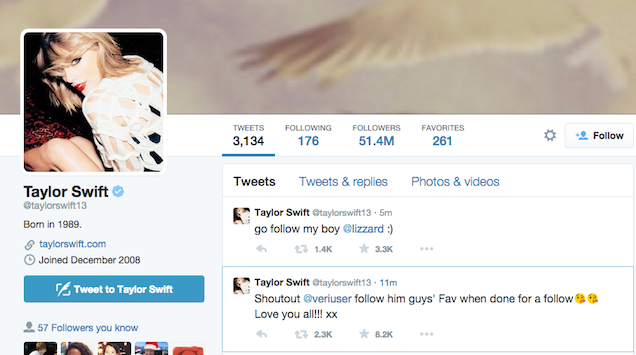 More info
HERE