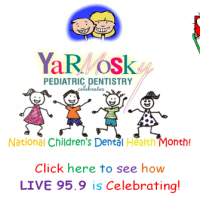 Should you bring your infant to the Dentist before his or her first tooth? find out during our  Annual "Ask the Dentist" interview with Yarmosky Pediatric Dentistry in honor of National Children's Dental Health  Month!  Doctors Louis , Steven and Lauren will be in studio Monday the 20th, answering your questions about children's dental health!
Submit your questions by emailing  fun@live959.com  …    Then listen Monday the 20th, to see if the Doctors answer your questions live on the air!
Children's Dental Health Month is brought to you by Yarmosky Pediatric Dentistry, specialized dental care from babies to braces for over 35 years!