---
Facebook Predicts When Couples Will Split
Break-ups are no fun, and a new analysis of Facebook statuses reveals what times of year people are most likely to break up.

Researchers found that many couples call it quits just after Valentine's Day and just before Christmas. Additionally, researchers found people are also somewhat likely to break up on April Fools day and on Mondays in April and May.

Researchers say the most popular time to dump someone is two weeks before Christmas because dumping someone any closer to the holiday may be considered "cruel," plus people then don't have to worry about purchasing an expensive gift. The researchers also theorize that people often get dumped shortly after Valentine's Day because people are "spring cleaning" their lives.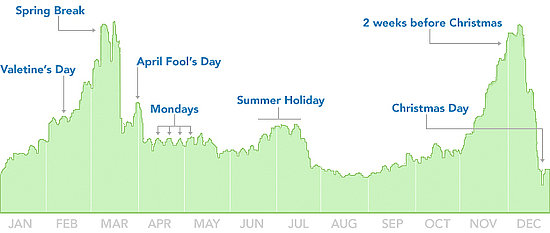 (Image: DailyMail)
More info HERE