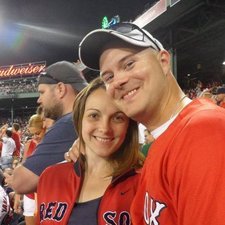 Hi there, my name is Mike Heck, I'm the afternoon DJ here at Live 95.9, and to say I am pumped is probably the understatement of the century. I'm Boston born, but moved out to Berkshire County 4 years ago to help my brother Bob with his Mobile DJ company. You may have seen me DJing a wedding, Karaoke show, or trivia night around the county. Along with that, I also have my own sports podcast which is on iTunes called Sports Fan Like Conduct, because I am a huge sports nut, especially the Red Sox, Patriots, Bruins, and Celtics. But I love sports in general. I am also the third of 4 boys in the Heck Family, god bless my parents.
I am married to a wonderful woman, and my best friend Holly, and we have a son named Grayson who is going to be a year old next month. Holy Cow, time flies.
I am very grateful for the opportunity I have here, and those who know me know that will give everything I have for it.
You can follow me on twitter @SFLCpodcast.
Best story about a co-worker: My brother and I played in a golf tournament with Slater a couple of years back. So we get to the "closest to the pin" hole and my brother puts his on the green. So we walk up to the ball, and my brother grabs the tape measure on the course to measure how far away he was. As we're leaving the hole, Slater says, "Don't forget your tape measure…wow, you take these tournaments seriously don't you?" After we stared at him for 15 seconds, we slowly went on our way to the next hole. Gotta love that Slater!